Ceramic Coral Propagation Plugs
Standard Size - Model #52P
These are our standard and most popular plugs. They are 1 x 1" and leave gaps between plugs without wasting space.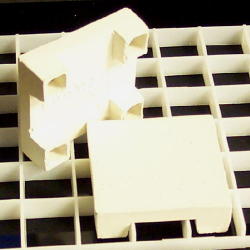 Large Plugs - Model #53P
These are our large plugs that measure 1-5/8 x 1-5/8". They are great for tall frags that require more stability.
X-Large Plugs - Model #54P
These are our X-Large plugs. They measure 2-1/4 x 2-1/4" and are great for growing out colonies from frags.
Specialty Plugs - Model #92P
These plugs are 1-1/4 x 1-1/4" and are made to fit tight, side by side to allow coral to spread from one plug to another. They will only fit in 9/16" square eggcrate.